Stitching and Pitching
Last night at the Safe was a blast! I arrived early and found
Ryan
and Mary who were waiting to hand out tickets to other knitters.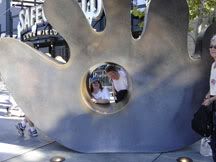 After chatting with them for awhile, I headed inside to check out the vendors and get my knit on.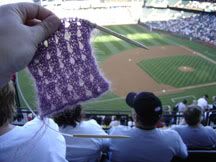 I'm working on my free membership pattern from Rowan using Kidsilk Haze. So far I am really enjoying this pattern and yarn. Soon I'll be ready to knit Birch!
Katie and Ian arrived shortly there after and while Ian contemplated life with a beer, Katie and I discussed knitting.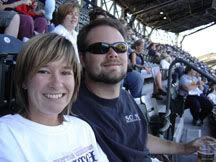 The highlight of the night was when the Mariner Moose came all the way up to our section for a visit.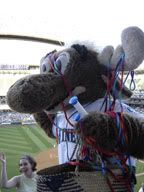 He was handing out yarn left and right. There was screaming, nashing of teeth, bodice ripping, OK! no bodice ripping but there were hoards of crazy knitters yelling for yarn. The poor little girl behind me was scared of the Moose and so of course, he decided to spend a ton of time standing in front of me with the poor child screaming behind me.
Katie made sure to yell nice and loud and got some yarn for her efforts.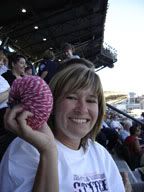 I too did quite well and got enough Tahki Baby to make a cabled
hat
from Hip to Knit.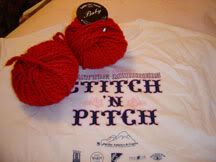 Check out the
article
in today's Seattle Times!