Personal History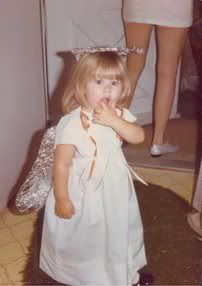 click on photo for larger view
This is one of my favorite photos from my childhood and not just because I was dressed as an angel (when I was really more of a devil) but because of the hidden parts of the photo you barely see.
Just to the right hand corner, you can see the barest peek of someone's foot and bathrobe. My Mom can't remember who is hiding in the corner but I love to imagine who it could be.
And just behind me you can see my Mom's friend's legs and shiny silver shoes. They surely wore short skirts in the late seventies. SHORT SKIRTS! But my Mom's friend had the legs to carry them off.
And for a woman who claims to not have a crafy bone in her body, you can see that my Mom was crafty enough make me the angel costume. One she made with a white pillowcase and tin foil.
This photo also captures me as the blonde haired, blue eyed girl I once was before my eyes turned to hazel around age 7 and my hair began to darken around age 12.