Music…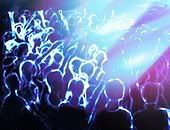 Each summer the crowds descend upon the winery to hear the sounds and taste the wine. They line up for hours before the show, before the gates are even open. They bring their picnic baskets, their coolers, their lawn chairs and the sparkle in their eyes.
Some are there to enjoy the summer day with the music in the background. Some are obsessed with the artist playing that day. Some just want to drink wine on the lawn. All have their own reason for driving out to the show. All will leave with their own memories.
The grass quickly fills with a patchwork of blankets. From above, they make a beautiful mosaic. Up close, they look a bit of a mish-mash.
The noise from the crowd starts to hum and raise to a fever pitch. Someone takes the stage and a hush arises from the music lovers. It is not the band though and the crowd turns back to their previous activities. Minutes drag by and children begin to ask when the music will start. Friends wiggle their eyebrows at each other. Talk to turns their favorite song, their favorite rift, their favorite lyric.
A flash comes from the stage. A chord is stuck and the band takes the stage. They start with their most famous song and the crowd leaps to its feet. The gypsy woman in the back row begins to sway. The old hippie pumps his fist in the air. A child is put on his father's shoulders. The crowd moves as one to the guitar's rhythms. The crowd's energy roars along with the singer's voice. The sounds, pings, plucks and beats overwhelm the people.
Hours pass leaving the attendees in a daze. The band says "Good Night" and the people lazily pack up their belongings raving about the experience they just shared.