Cupcake, Cupcake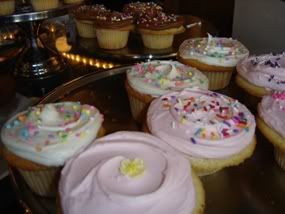 On Saturday, I met up with a few friends for knitting at the
Cupcake Royale
. The yummy cupcakes were great but I have to admit to being a bit disappointed in their flavor selection. After a few licks of the buttercream frosting, I quickly got over that and got to knitting.
Jessica
was attempting to break the knitting speed record by knitting a devil hat for a party she was attending later that evening. She got prettty far! I hear she accomplished her goal.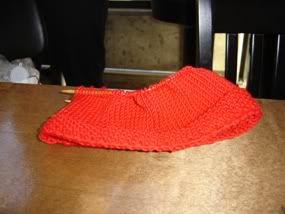 Julie started her very first hat from Stitch and Bitch.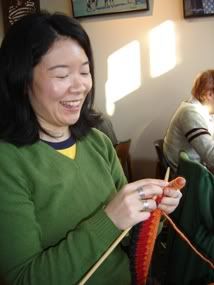 These colors are so perfect for her!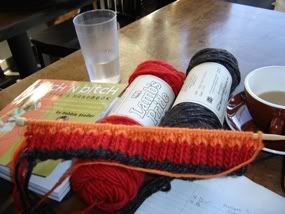 My friend Kim also showed up for some cupcake time even though she doesn't knit. Unfortunately I neglected to get a picture of her! Bah on me! She did say she had a good time and Jessica threatened to teach her how to knit. I don't think Kim was adverse to the suggestion.
I knit some more on my
Manos
sweater and am about half an inch from the armholes on the back! Jessica and I discussed adding a pocket to the front of the sweater which I am seriously considering. I need to check my yarn supply first and then consult the Rogue pattern for this.
Oh, yes
Lara
, I finished knitting her on Saturday morning. I started seaming her on Saturday evening. I did something wrong and had to rip the seaming out. I think this finishing my take awhile (especially since I put Lara in timeout yesterday) but I have set a deadline for myself. I shall seam a bit every night this week and I want to be wearing this sweater by next Monday. Yep, that is my goal!