Happy Halloween
With Halloween falling on a Monday, we decided that true celebrations would happen on Saturday. With parties to attend, we met up at a local bar to get our Halloween spirit together. Shortly thereafter, we headed out to the party. One of my co-workers throws the BEST parties, really the very BEST. The party was packed with fantastic costumes and unique expressions. Though I did hear the Zombie Juice turned one into a ZOMBIE!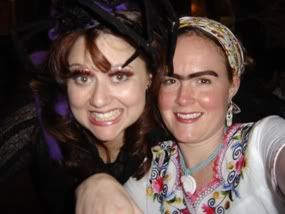 Mot dressed up as Frida and I went as a spider. Let me tell you, those eyebrows are sure to get the opposite sex's attention! Others in our group went as a Hurricane Television Reporter, a Half Patient/ Half Doctor, the Lone Ranger, a Kitty and The Bearded Lady.
Not all this weekend was spent Halloweening, I finished another Dulaan Hat and Ethan's baby sweater is currently blocking in preparation for the collar addition and final sewing up.