Cafe Knitting
Last night after work I headed home to play ball with Jessie. Andi arrived home shortly after 6 p.m. and Jessie and I headed over to bother Roux. Andi's friend was over and kindly offered me a glass of wine while Jessie tried to engage Roux in some play time. Unfortunately Roux is feeling a bit under the weather and will need surgery to correct a spinal issue. He's a trooper though and I know he will do well! (He'd better!)
After visiting over at Roux's house, I headed over to Cafe Zoka for some quality knitting time with Julie (NOT Zubin's mom, another Julie, I like to populate my life with Julies as they tend to be fun). We knit from 8 p.m. until 11 p.m. when the cafe closed. Along the way, Julie finished her felted bag and I finished the sleeves for Trellis.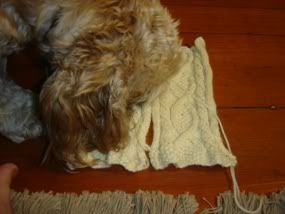 Here is Jessie helping me take the photo of my Trellis sleeves!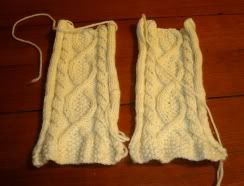 Here they are, dog free!
I also made great progress on Ronnie.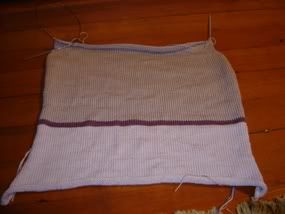 I suspect the back will be completed very, very shortly.
When I arrived back at Jessie's place, I decided the smart thing to do would be to cast on for the front of Trellis and then to start reading a new book. Thereby guaranteeing that I would not fall asleep until almost 1 a.m. Getting up at 6:30 a.m. this morning was quite painful!