Lara-long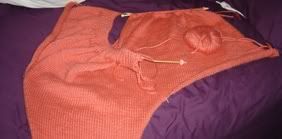 I spent this weekend alternating between Lara and my Manos sweater. Last night I finally tackled the left front ribbing of Lara and I almost couldn't stop! It was getting later and my eyes were closing but still I wanted to knit!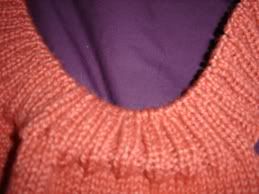 Only two more rows and then I get to BIND OFF the left front. I do have a one question about one line of instruction in the sweater but with Purly Girls tonight, I'm pretty sure I'll get that resolved. Otherwise, my thinking cap will need to be put.
This morning when I arrived at work, I had a very nice present on my chair from someone I've just recently begun working with. They were chocolates from
Moonstuck Chocolate Co.
and are supposed to be Oprah's favorite chocolates. The last time I was in Portland, Stephanie and I spent a long time in the shop just gazing at thier selection. YUM! It's the perfect combination -- knitting and chocolate!