Leaving the Crazy at Home
This morning, I had an appointment out in Bellevue and as I prepared to leave, I went to grab my bag which carries all sorts of fun stuff from big books to yarn, clothing, food and pens (lots of pens which I can never find when I need them). As I reached down, I realized that I might need to leave the crazy at home.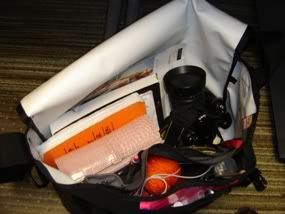 My bag unfortunately reflects the state of my mind. If I am calm, it is neat and orderly. If I am feeling rushed and stressed, then it looks crowded and disorganized.
I must have been feeling a bit stressed on Thursday when I went to the doctor because the nurse told me that my bag was giving women a bad name and that I needed to tidy it up. I wanted to know if she had been speaking with my Mom!