Cutting into my blogging time
Wow! Work is really cutting into my blogging time! Luckily I'm still finding time to knit! In fact, last night I took some time and made my way down to the
Guild
meeting to check out the Fiber Frenzy and see some other knitters! I was thrilled to see .
Ryan
and Lynn. I also got to meet Kit who was a hoot! Ryan has started knitting
Wendy's
Baby Norgi Sweater
. Looked like toothpicks that she was knitting on but I know it will turn out super cute!
Ryan also promised to teach me how to knit socks! Now I just need to get my started socks to the scary part, the heel and then set up a sock knitting session! Whoo-hoo!
Today I purchased something from
Purl
as a prize for landing the job.
Don't adjust your screens! It is Debbie Bliss Cotton Angora. I'm planning on making this tank! Of course there will be math involved but I refused to be scared of it.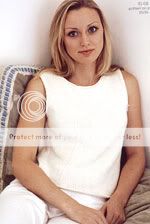 Can't wait for my yarn to arrive!
**Hooded Weekend Sweater Update** I've completed the hood and started a sleeve. I'd have pictures but I did something wrong when I took them so repair work has started! Hopefully I'll get the pictures and all will be well. Until then, happy knitting!