Interweave Spring Preview
The
Interweave Spring Preview
is out and I'm pretty excited!
I know I'll be making the Enterloc Socks by Eunny Jang! I'm taking a class at Madrona about Enterloc and so this is the perfect pattern for me.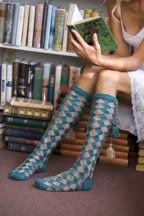 I love this Green Tea Raglan sweater!
My sister-in-law and I were recently discussing how much we liked slanted necklines so I'm digging this pattern by Kate Gilbert.
Véronik Avery has done it again with her Dollar and a Half Cardigan.
I love the softness of the Swan Lake Cardigan though I doubt I'll be making it for myself. I'm not sure that it would look as beautiful on me as it does on the model. So lovely though.