Paris FO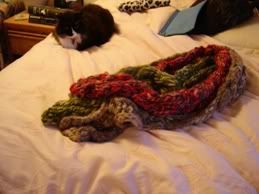 I've finished the Paris Trio Scarves! These were quick knits with fun chunky cables in three colors for the three travelers. Stephanie gets the green one to match her eyes. Jen gets the beige one to showcase her sparkle and I get the pink one since I'm obsessed with pink! You can see Destiny eyeing the scarves from the background.
Destiny also likes the pink one.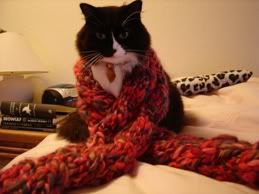 I think she may have been sleepy when I wrapped the scarf around her neck because unlike her usual behavior, she sat still and allowed me to photograph her wearing my new creation.
Destiny here! I want to let you know that I am NOT amused by this lady! She has taken to wrapping woolish things around me! I know it's winter but I already have a fur coat. Wheessh! She's crazy!