Some Actual Knitting Content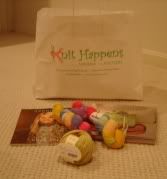 While in DC, I made a visit to
Knit Happens
where I aquired the goodies above. I picked up the newest
Debbie Bliss Book Seven
and my new favorite book,
Last Minute Knitted Gifts.
The book was a big draw because I really want to knit the cute bag on the front cover.
It should be quick, right?
The yarns were purchased because I have a sock yarn obsession. Yes, I need to actually start knitting socks from the sock yarn but I'll get to that!
And lest you fear that I'm not knitting, I am happy to report that I am! I just don't have any pictures right now. With Winter in our midst, daylight is precious and night time makes pictures hard to achieve.
I'm back to working on Lara and hope to finish her soon. I'll get some photos this weekend in the daylight! I also need to finish my last Paris scarf. I have two made and now need to make one for myself. My friends and I will be Tres Chic in Paris!
Speaking of Paris, I leave in just a short 10 days. Wheeeee! I'm hoping to meet up with
Kate
so I can bring her some American goodies. It is important to spread good cheer around the world.
As for running, I have an itch to go again but I need to treat my toe with a bit of respect. I do confess that it has been nice relaxing this week but one can't rest on their laurels forever!
Enjoy your weekend and remember there are only 50 more knitting days until Christmas.