Secret Pals ROCK!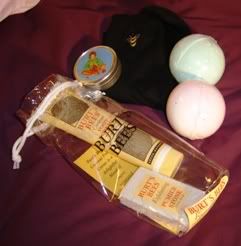 Friday night I arrived home tired and worn out from an extremely busy week. Upon my doorstep, I found a delightful little box filled with wonderful treats! My Better Pal had struck again! Saturdays are my long run day and this package full of treats for my feet was just the right thing to bring a smile to my face.
I've not yet used the bath bombs but I sense I will shortly as there are some aches and pains that need to be taken care of by a nice warm bubbly bath.
And have any of you tried the Knitter's Balm? This stuff is awesome! Completely Awesome!
THANK YOU BETTER PAL!
This past weekend, I started a few projects, gathered supplies for the Union Square Sweater and finished up a few other projects. Unfortunately photos will have to wait for now.