Knittin' with Friends
On Saturday after fighting traffic to get my hair cut in Stanwood, I stopped by a new yarn shop on Camano Island and ran into fellow Feral knitter, June. What a treat!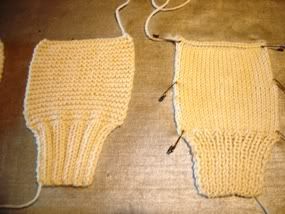 To continue my treat-filled day, I headed down to Southcenter (because I like driving?) to meet up with
Karen
. Along the way, I witnessed a near-rollover accident and had to scream on the phone to Mot, "I'll call you later!" as two-handed, 110% attention was necessary at the moment. I called her later to tell her that the truck next to me went into a dead spin and that smoke was pouring from his tires. I was convinced that he was going to slide right into me and I would not have been pleased!
Luckily though, Karen and her daughter were waiting for me at Starbucks where the goodness of Chai lives on. I grabbed my very own Chai and then began hammering Karen with questions about
TKGA Master Knitting Level 1
. Karen is currently completing Level 2 and is working on her vest. A beautiful vest that she designed herself (check out the entry
here
) Karen gave me some great tips and helped me feel better about my abilities. She has a gift for that!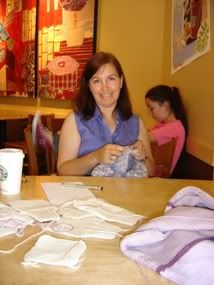 We spent some time looking at my swatches, checking out her vest and finally just knitting. I worked on my
Hourglass Sweater
and it really beginning to take shape. I can not wait for the cold weather to swoop in and for this to be finished.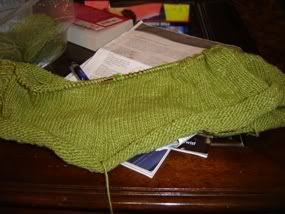 Last night after
Purlygirls
, I sewed up the last sleeve for the Darn Purple Sweater and started attaching it to the sweater. Only 1.5 more sleeve attachments to go! Then blocking and a finished sweater!