Running my heart out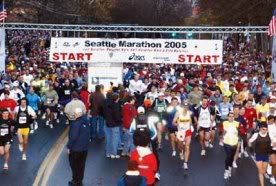 This is week two of my new training program for the
Seattle Half Marathon
. I'm in pain but I am seeing improvement with each and every run.
Since I fell a few weeks before the Danskin Triathlon, my right leg has been stiff and achey. I'm seeing a massage therapist next week in hopes of improving the stiff-ness.
Luckily my training partner, Dog BFF Zubin has been there along the way to help me train. He makes me run when I don't want to, keeps me going by running sideways, and encourages me by continuing on when he would much rather chase the squirrelies.
I am continuing on even though the last two weeks have been hard and a bit stiff because I know it will get better because it must get better.
So here is to continuing the running and good training!