Sock Wars - Part Three
There is a bit of a yarn crisis over here in Supergirl's world. I was happily knitting along when I noticed a lack of yarn. No problem, I thought, I'll just buy another skein.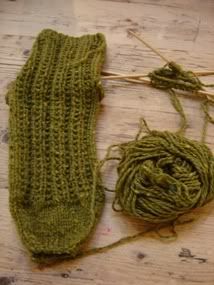 That is when I found out that this yarn -- Rowan Yorkshire DK Tweed -- is discontinued. Now my only hope is that someone else has some of this yarn or that I'll be able to find a sorta match. Any one have any yarn to help a girl out?
Now in order to make this fun, let's all bet on when I'll run out of yarn for the sock. Vote Early! Vote Often!
Please vote in the Comments since I can't figure out how to get the Blog Poll to work!
When will Rebecca Run out of Yarn for her Sock of Doom?

A. Before the Heel
B. At the Heel
C. After the Heel
D. Halfway Down the Foot
E. Silly! She won't run out of yarn! She has plenty left!