Baby Knits
Baby knitting abounds in these parts! With the plethora of babies being born around me and my quest for quick projects, baby knits are fulfilling many a need.
Last night I cast on for the
braided cable socks
from the latest Interweave Knits. Using Harlot approved metal needles, I've accomplished quite a bit for 15 minutes of knitting.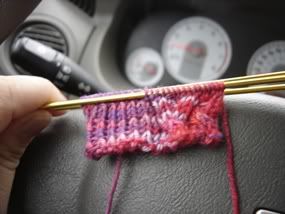 I had considered these socks for my new cousin but he's a boy and these socks are pink. So instead, I believe these will go to a co-worker who is having a girl in a few short months.
While many spent this weekend in Maryland at the Sheep and Wool festival, I was busy myself. I used the time to pack up my winter clothing, sort out paper on my desk, go for a nice long swim, take baby bike out for her initial summer ride and watch "The Hitchhiker's Guide to the Galaxy" with my Mum (oh and other family members were there too! It was Mother's Day!) All in all, it was a pretty good weekend and Diana was nice enough to keep the pace and distance down on my initial ride of the season. It felt so good though and I am ready to get my bike out for more rides! Right after I fix my brake pads though! They are in desparate need of replacing!