Brilliant Keane
Purlygirl Meg, her boyfriend, Matt and I headed out to watch Keane last night at the Paramount Theatre. In true
Harlot
fashion, I also brought along the sock.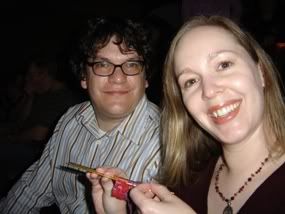 Moments after this photo was taken, I heard Meg whisper to Matt, "See I could be worse! At least I don't make you pose with knitted socks at concerts." But I just KNOW Matt loved posing with the sock.
Between sets, I quickly snapped the sock enjoying itself at the show.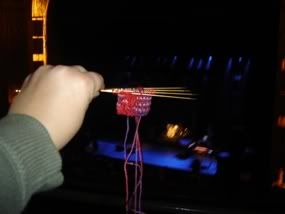 Keane
was absolutely brilliant! Tom Chaplin's voice is so strong and smooth. Watching Tim Rice-Oxley on Piano and Keyboard was vastly amusing. I've never seen anyone play with that much enthusiam. Towards the end of the show, the band had cameras which showed intense close-ups of their feet or hands, etc. The best camera angle was of drummer Richard Hughes' face while playing drums.
This was the best picture I could get of the band. I wasn't sure if cameras were allowed so I was trying to be sneaky.