Tijuana Weekend

This weekend, I headed down south to Tijuana with my friend, Kenn. We parked the car at a Park and Ride in San Diego and took the trolley to the border. There we boarded the "chicken bus" and headed over the line.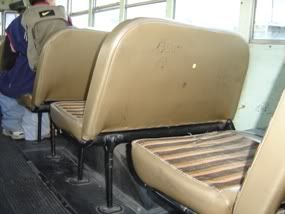 Kenn and I agreed that the suspension on the bus left much to be desired!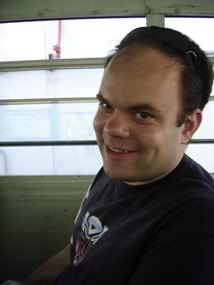 Once we arrived in Tijuana, we walked down the main drag to the tune of, "Honeymooners! We have family shows (while pointing to a nudie bar!)" and "Honeymooners! We have good stuff! Come inside!"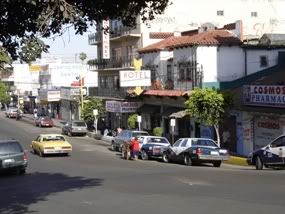 With all that walking, I was sure happy to be wearing my new sneakers!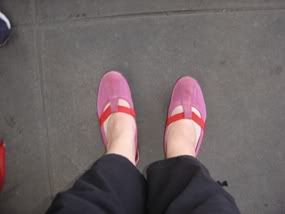 One of Kenn's co-workers is from Tijuana and provided us with a wonderful restaurant suggestion for lunch. While I can't remember the name of the place, they did have fantastic Paella and "Happy Juice" (as termed by Kenn and I).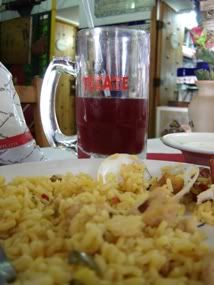 Feeling quite pleased with my meal, we spent some time finding a futbol jersey for Kenn and then headed back to the States. After a very enjoyable day, I was a bit beat!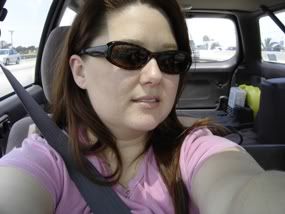 We decided to end the day with a movie and saw, "Millions." I'd highly recommend the film and found the cinematography to be quite beautiful.
Precious little knitting occurred this weekend but fun was had by all. Best of all, I did get to visit with one of my favorite knitters, Momma M! Kenn and I had breakfast with her and her husband who were kind enough to take time out their busy schedules to see me! Momma M showed me her lastest creation and it was beautiful!