Cupcakes and Chloe
Last night after my bike ride was cancelled due to thunder and lighting, I decided to make more of my Famous Cupcakes.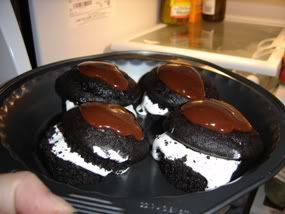 And today I will share the famous recipe with everyone.
Preheat oven to 350 F (180 C)
1 ¼ cups all-purpose flour
½ cup unsweetened Dutch-process cocoa powder
¾ tsp baking soda
¼ tsp salt
1 cup granulated sugar
1/3 cup vegetable oil
1 egg
1 tsp vanilla
¾ cup buttermilk
½ cup semisweet chocolate chips
Filling
1 cup marshmallow crème
Glaze
½ cup semisweet chocolate chips
1/3 cup whipping cream
1. In a small bowl, mix together flour, cocoa powder, baking soda and salt.
2. In a large bowl, whisk together sugar, oil, egg and vanilla until smooth. Alternately beat in flour mixture and buttermilk, beating until smooth. Stir in chocolate chips (I always add a few extra!)
3. Scoop batter into prepared muffin tin (lined with paper liners). Bake in oven at 350F for 22 to 27 minutes or until cupcakes are baked. Insert a toothpick into the center and when it comes out clean, cupcakes are done! Let cool in pan for 10 minutes. Then remove from pan and let cool completely on rack.
4. When cupcakes are completely cool, remove paper liners and slice cupcakes in half horizontally.
5. Filling: Spread a layer of marshmallow crème on cut side of bottom half of cupcake. Replace top half and sandwich two halves together. Repeat with remaining cupcakes.
6. Glaze: In a microwave-safe bowl, combine chocolate chips and whipping cream. Microwave until chocolate is melted. Stir until smooth and allow to stand for 5 minutes to cool slightly.
7. Pour glaze over cupcakes. Place cupcakes on platter and refrigerate until glaze is firm.
8. Keep refrigerated until ready to serve and Enjoy!
This was Chloe watching me the entire time I baked cupcakes but because they were chocolate and because she has a sensitive stomach, there were none to be shared with her.