Dulaan Knit-In
Yesterday
Ryan
and TMK hosted a "Dulaan Knit-In" party. I was amazed at the level of donations gathered at just that one party!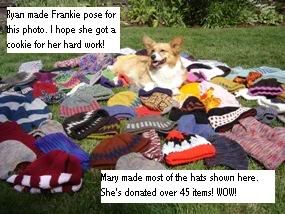 Mary has knit over 45 items and though she mentioned some stiff competition from a Vermont
blogger
, I was quietly astounded at all her work. OK so I wasn't quiet BUT STIll I was astounded! I mean 45 items! She's a Dulaan GODDESS! I bow to her glory.
In between being amazed at my fellow knitters, I donated a few items of my own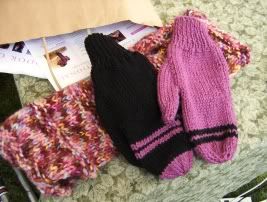 and cast on and knitted a hat while enjoying yummy food and great knitters!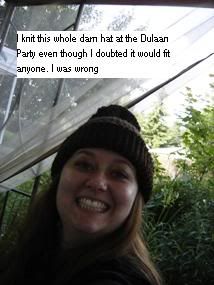 I even caught Frankie modeling a Dulaan hat with Ryan!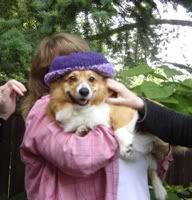 I had such a great afternoon knitting for people who will really appreciate the warmth of knitted garments, spending time laughing with
Karen
, June, Kit and Mary B. TMK said we were at the trouble makers table.
And I finally figured out the mystery of the
felted blankets
! I just couldn't understand why all these people were buying pieces of felt and cutting them up when in my mind, all they needed to do was cut a simple square. WELL yesterday I saw a finished one and it had TWO pieces of felt put together. That's what all the tying if for! It was a lightbulb moment. Well a dim one for a dim knitter!
Tomorrow, start of the new job! Wish me luck!