Wetsuit Love
Today on my last day of work, I purchased a WETSUIT! This summer when I'm training for my triathlon and then actually doing the triathlon, this suit will be a huge asset. LeAnne -- I'm about 99% positive I'll be doing Black Diamond, though my course will be a bit shorter than your more impressive length.
So here in all her glory, is my new wetsuit...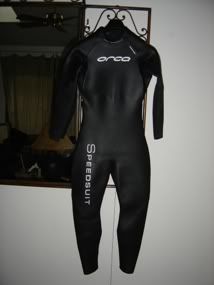 LeAnne -- click on photo for larger view
Wheeee! I'm so excited! I can't wait to go swimming!