How can it already be Sunday Night?
Really! Wasn't it just Friday evening? Where did my weekend go and why did it go by so quickly!?!

Saturday was my last day with the cats and Chloe.

Chloe whimpered as I drove away which was precious but I know she's just fine with her new petsitter.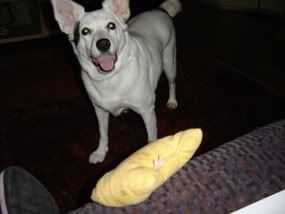 and I just loved the expression on one of the cat's faces. Callie always looks mad at you even when she is purring up a storm.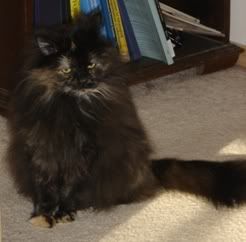 Saturday was also my Aunt's wedding which was quite gorgous and I think I wore myself out taking photos. There were all on film which are being developed so no photos here just yet.

Today was a gorgeous Seattle day. I met a friend for a bike ride and then we visited another friend's house for little get-together.

In between there was some knitting on the Sitcom Chic. I was so happy when I thought I had finished one sleeve and started right up on the second. It wasn't until a bit later when I noticed a HUGE hole in the first sleeve. I only need to rip back about 8 rows but I THOUGHT I WAS DONE WITH THAT SLEEVE! HURMPHHPPH!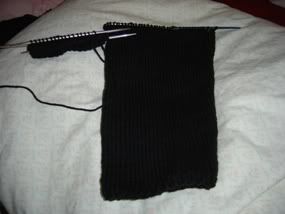 So I'll be fixing the first sleeve tonight and continuing progress on the second which is much further along than this photo shows since this was taken Friday evening.

And I got my Interweave Knits. I just love
Kate's
sweater!

PS Carolyn -- For you, anything!