My Better Pal is Better Than Yours
Last night after a long day at work and then dinner with friends, I headed home and discovered a large package on the doorstep. I knew it was from my Better Pal and that within it was the revelation of who my Better Pal was. I scanned the label for clues and ripped open the package to find this: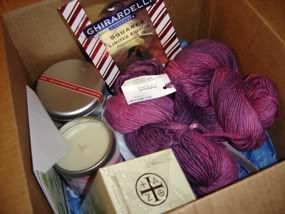 Weeeeeee! Look at the GORGOUS Yarn! It's from
Malabrigo Yarn
and is made in Uruguay, much the same way as Manos but is soooooo very soft that I just wanted to rub it on my face for hours. Also inside the package was Hot Cocoa, Tea, a yummy smelling candle and delicious chocolate -- all the things I need for the perfect day of knitting!
Here's a more spreadout picture of my goodies. Please excuse the poor shot but Seattle has NO sunshine this time of year!
And once I read the card, I discovered that my Better Pal was
Jody
of Savannahchik Knits. I really feel that I got the best pal in the bunch and I enjoyed this swap so very much.
Jody! Thank you for spoiling me!