Softy Sock Knitting
Last night I did not do anything I had planned.
I did not attend
Spanish Class
.
I did not seam up Ethan's Sweater.
I did not finish "
A Million Little Pieces
"
I did however do some other fun stuff.
I did go for a run with Mot.
I did eat at
Taco Del Mar
(FAVORITE!).
I did work on my Rowan Calmer Socks(they will be faternal twins, on purpose).
I did work on the special baby blanket.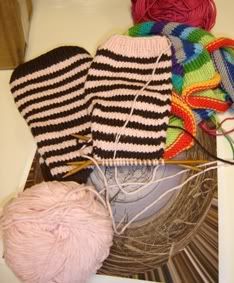 I wanted to say thanks to everyone for the great seaming tips.
Diana
-- I am so following your tip of using the clips. I think that will help me get this done sooner. My OFFICAL goal will be to have this completed by this weekend. Then if I am very good, I can get it in the mail on Monday and Ethan can be wearing it by Tuesday (depending on the mail service).