One Year Ago Yesterday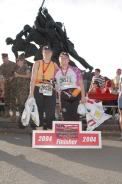 This is where we both stunk so bad we didn't want to be near each other but also had no energy and thought the other might catch us if we fell.
One year ago yesterday I ran my very first
marathon
with a friend who only ran because I wanted to do a marathon. There are parts of that day that I do not remember but I do remember how Stephanie told me to buck up when I was tired, pushed me with I wanted to stop and made me giggle when we were talking about our medals. I remember thinking after the run that I just had to keep moving and that when we got home, Stephanie had arranged for nice cold Stella to be waiting in the fridge for me.
I've not done a race since last year though I've attempted to train for quite a few. I do however have one over Thanksgiving Weekend and while I don't have the passion for my training that I've had in the past, I know it will be a good race. Julie will be running with me and we'll be in Rainy Seattle where we can make people cheer for us.
It's amazing to look back over a year and see what you've accomplished. There are many times when I think that I've done nothing to write home about and then I remember that everyday is an opportunity to make a mark in my own life or most importantly in the life of another. It was one year ago yesterday that Stephanie made a mark in my life by running a marathon with me and celebrating that accomplishment.