All about the finishing...
This week is all about finishing and in that vein, I gathered up all my unfinished projects. I quickly took tally and grabbed the quickest one to finish yesterday. I'm about half way through the skein of yarn and once the skein is gone, the scarf is finished!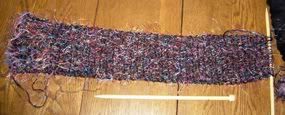 Once my confetti scarf is complete, I'll get working on completing my purple sweater and the Debbie Bliss socks I've been working on (and need to fix the heel on).
This will be a vacation where I actually get some stuff DONE! What a great feeling!