Of Babies and Finishing
As my vacation draws to an end (how did the time go by so quickly), I take a moment to reflect on what I've accomplished and what I need to accomplish.
1. The Confetti Scarf is complete!
Finnley was kind enough to model for me.
2. I started and finished the Felted Clutch from
One Skein
(OK so I still need to felt it)
3. I finally got to hold Gabby!
She's been moved out of the ICU and is in her own room at Children's where I can hold her to my heart's content (well assuming her Mama doesn't want to hold her at the moment). They are still trying to figure out what is up with Miss Gabby but she's in the best place for them to figure that out.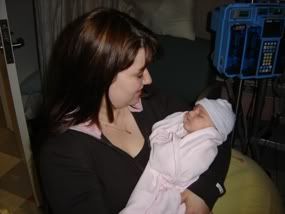 As for what I still need to accomplish, I still need to:
1. Turn in my Taxes
2. Finish the Purple Sweater
3. Finish the Debbie Bliss socks (I fixed the heel this morning and just need to get down to the toes).
4. Finish burning my CDs to iTunes (only about 15 more to go!)
Tomorrow, I get to finally meet
Rachael
in person!