When we were wee…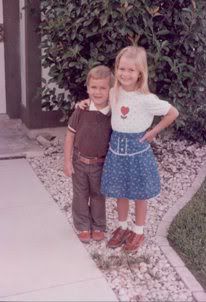 When we were wee, we played Dukes of Hazard, Wonder Woman, Superman and Office in the backyard. We'd hide out in our playhouse or behind the Pampas Grass waiting to leap out and surprise the other. I'd climb the back fence to taunt the German shepherd who lived back there while you kept watch for our Mother. We were constant companions.
There were times we allowed others into our confidence in order to round out our games, but they were rare. Most of the time, we'd secret ourselves away and refuse to allow others entry to our secret games. The cats and dog were used as props and somehow kept calm composure through the most harrowing of games. We tried to create a secret language but even to us it sounded like gibberish and we quickly learned that we would never understand Pig Latin. We had battles for the goodness of the galaxy while running up and down the large hill in our backyard.
And if it was hot, we'd have the "Slip and Slide" to slide down the hill on. We looked forward to those extra hot days as the slide provided so much entertainment. We'd spend hours playing on the slide, splashing in the wading pool and later playing at the swim club. I remember each of us trying to hang on our Mother who only had one rule which was not to get her hair wet! This was a challenge to us and we'd splash, splash, splash until she roared at us to "Knock it off!" We'd also spend our time trying to hang off her neck as she performed the "Mom Stroke". By the end of each summer, we'd end up with skin darkened by the sun, often times the sun would darken us to the same color as our friends from Mexico, Juan and Pepe. I'm sure it was quite a sight to see; two blonde kids with skin the same color as their Hispanic counterparts as they cavorted through the neighborhood. We never noticed it until years later when we'd flip through the family photo albums, comparing the color of skin from when we lived in Texas to when we moved to Washington.
Along with the move, it seems our skin lost its pigmented hue. Shortly after that we found out that we were no longer wee for it seemed we had both grown-up, O Brother of mine, and we no longer had time for those childhood games.
Thanks to Laini and Meg of Sunday Scribblings for this prompt!