Quick Knits
I've been very interested in Quick Knits lately from large gauge socks to baby hats! When
Rachael
came for a visit and I stalked her to
Churchmouse Yarns and Teas
, I purchased some Debbie Bliss yarn for the Swirl Hat in
Holiday Handknits
. I had marked this pattern down when I purchased the book back in November as a possible hat to make for Gabby.
I have to say that I love this pattern! I found it easy to follow and I adore the end result! Now it's a bit big for Gabby right now but it should fit her come October when the weather starts to cool down again.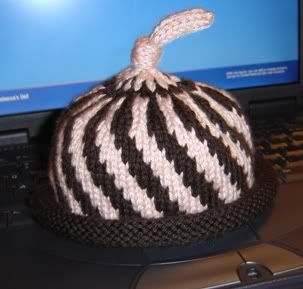 I love this hat so much that I'm tempted to make one for myself (the pattern includes instructions for children along with men and women!)
Now I just need to figure out what my next quick knit will be...maybe I should finish my second Debbie Bliss Cabled sock from
Home
. I do know that I'm bothering the Ferals with questions on the
Jellybean Cushion
tonight so that is also back in the running.
This week also marks the official start of my
Danskin
Triathlon Training. I can't wait to get back in the game!