Satisfying Baby Knitting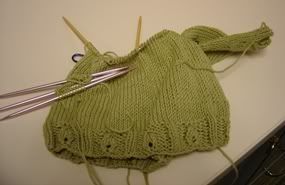 I started knitting one more sweater for someone I pet sit for on Sunday and so far I am loving how it is turning out. I'm using my favorite baby sweater
pattern
from Last Minute Knitted Gifts but adjusting the hem to reflect
Kate Gilbert's
hem on her
Pea Pod Baby Set
. I love the Pea Pod sweater but I wasn't feeling up to knitting the lace and I wanted to experiment a bit on my own.
I am loving how this sweater is turning out and how quickly it is knitting up. As soon as I finish this little project, I'm starting the
Hourglass Sweater
from Last Minute Knitted Gifts. I can't wait!