Swatch Obsession
As I continue my
TKGA Master Knitting Quest
, I have become obsessed with swatch #1. I've knit it three times in three different yarns.
Swatch #1 was first knit in Peace Fleece which I judged as too lumpy.
Swatch #1 was knit secondly in Cascade 220 which is a serious contender for this course.
Lastly I knit swatch #1 in Lamb's Pride Worsted Wool. Again this yarn is a serious contender.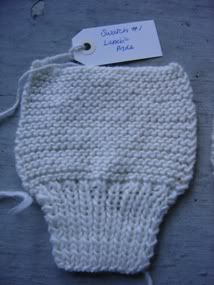 I still want to find one more yarn before I make my selection. I plan to visit Churchmouse this weekend and yarn will be located there! I also need to block these swatches before making my final decision since blocking can reveal all.