Whew! Four Day Weekends are ROUGH!
Picture Heavy Post!
It's been a busy four day weekend over here at Supergirl's house! Saturday moring I arose bright and early due to a phone call from Mot. I took the time to finish up the baby bolero I started in April while waiting for Meg to call me for a our run.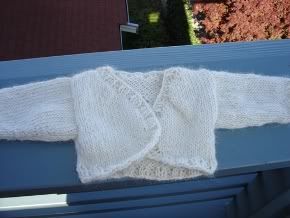 The Cute Front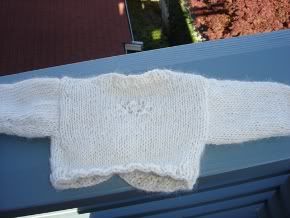 The Adorable Back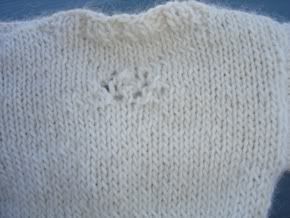 Close-Up of the Lace
And I finished one of my Sundara Cascading Leaves Socks. It's fantastic and its almost as big as the Baby Bolero!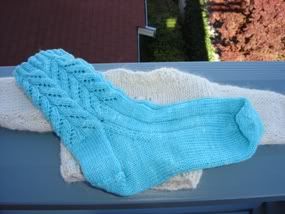 Then Meg called to cancel our run which was ok since I had already scheduled a bike and swim with some other friends and knew it would be better to rest some more. But the swim didn't work out due to a pool closure and I got my first flat tire on my bike in four years. I guess the odds were for me getting one and I'm just glad it wasn't during a race! We did however make it over to Lake Washington for a swim at Madison Beach which was great!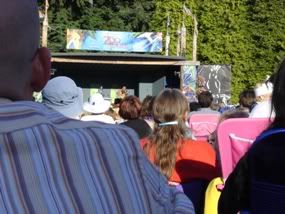 Then on Sunday I met up with the girls for an Indigo Girls concert at the Zoo. It was FANTASTIC!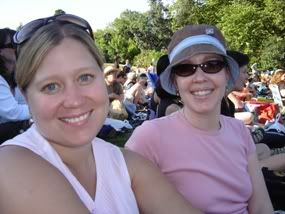 Darcy and Meg pose for me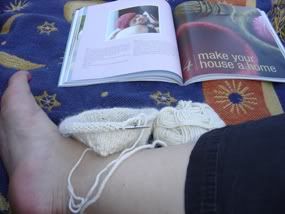 I finished up a hat to match the Baby Bolero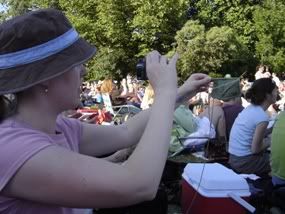 Meg takes a picture for her blog, which isn't on her blog for some reason!
Monday I was off from work so I headed out for another bike ride on my newly changed and inflated tire with my friend Diana. Diana is the woman who first convinced me to do the Danskin Triathlon many years ago. I love riding with Diana.
After heading home and cleaning up, I had to head out to work the Fiona Apple and Damian Rice Concert. It was quite interesting to say the least! Damian Rice was fantastic and Fiona Apple was entertaining. Her fans were even more entertaining.
Today has been about doing nothing, eating good food with friends, walking dogs (Zubin looks just like his old self and is even bratty! Yea for Zubin!) and now I'm heading out to watch the fireworks (well sorta, I'm not into them so I'm going to friends for a little bit and coming home before the fireworks to avoid the Rebecca Fireworks traffic meltdown).
Happy Fourth of July!