Becoming Feral
Last night I attended my first Feral Knitters Meeting and it was all that I thought it would be (and more!).
I arrived a tiny bit late for the meeting and stopped to grab a pot of tea where I saw Kit. We discussed the best item to eat (for both health and taste) before heading to the Feral gathering. I was quickly greeted by
Ryan
upon entering which made me very happy since it had been quite awhile since I had seen Ryan. I also knew that she would mock me within an inch of my life about my knitting. This always makes me feel right at home! (I love you Ryan!)
Karen
was among the people gathered and made sure we introduced ourselves to each other. I knew most of the people but others were new faces.
After settling in, I decided to start my very first Feral
project
. In order to get a feel for Fair Isle knitting, I started with the scarf which has just a wee bit of Fair Isle.
I then asked Karen for assistance on two-handed knitting since I once took a class on how to do it but then promptly forgot all I learned. After about 5 seconds, Karen had me on the right track and I produced this!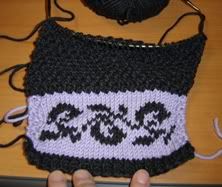 Do you see? I made something with a design and it looks normal! Weeeeee! Now I have something to knit on the plane ride to San Diego. I brought Sitcom Chic along but if someone is sitting next to me on the plane ride, my long needles might end up hitting them in the face. This project is on circular needles and won't hurt anyone.
So in just a few short hours, I leave for Sunny San Diego which is nice because the rains started falling down today! Of course I left something at home which I may or may not need. I didn't bring any good close-toed walking shoes. I think I'm going to have to go shopping!