Fourth of July-ing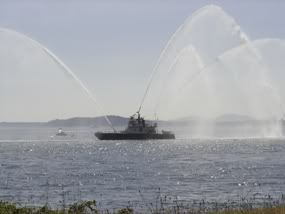 Happy Fourth of July! I skipped the fireworks this year but did make it down to the waterfront to check out a friend who was performing on one of the many stages set up to celebrate the Fourth. The fireboat was all afloat for the fourth and the sun was out in full force!
This was a busy busy weekend with lots of bike riding, running and lake swimming. Unfortunately there wasn't much time for knitting but I was able to fit some in while at the waterfront today.
And now the whole neighborhood sounds like a war zone with bursts, blasts and things lighting up the sky. Destiny has retreated to under the bed and I shall attempt to get some sleep soon.
It's time to start another week! Although this one has only four working days!