Summer Sunsets
This past Sunday, I went to a friend's house for BBQing and games. The view from thier house was so beautiful.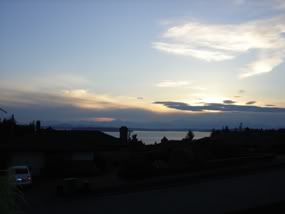 If I had this view, I wouldn't leave the house!
Today's workout torture was an 8 mile hilly bike ride. I actually did a lot better than I thought I would! The last time I rode this hill, I had to stop because I was pedaling so slowly I feared I would go backwards down the hill. Not this time, this time I pedaled and pedaled and made it up the hill without going into the granny gear! Success for me!
Knitting on the Sitcom Chic is going well. The second sleeve is about half way done and soon I'll be joining the yoke and there will be smooth sailing ahead. Now if only I dedicated as much time to the knitting as I do to sleeping!