Somehow the Puppy became a *gasp* DOG!
Somehow Phoenix (My brother's dog) has gone from being a sweet (furious biter!) soft puppy
to a DOG!
Where did the cute puppy go? Who allowed this grown-up dog into the house? And why is he so much more well behaved than that puppy?
This weekend Phoenix and I spent some quality time together. I took him for a run with Zubin (and he did so very good! I was quite impressed.), we played at Zubin's house, he helped me knit (meaning he tried to eat the yarn ball and I yelled alot) and now he is begging me to go on a W-A-L-K (and yes it is cute because he keeps huffing at me and we're going in a minute, gesh!)
Phoenix also reminded me about how dogs never let you do anything alone (Oh, you're going to the bathroom - let me in there! Taking a shower -- can I peek into the curtain?) and taught me how to properly play rope.
In addition, he was there for the pinnacle moment in
Sitcom Chic
-- the joining of the sleeves to the body which can only mean a finish Sitcom Chic should happen sometime this year!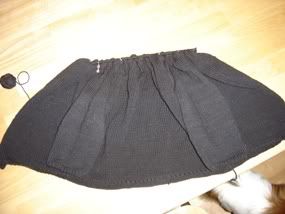 Ta!