Dulaan and Feral Knitting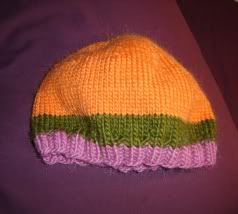 June is quickly approaching so my Dulaan knitting is ramping up! I just finished my 9th item for Dulaan which leaves me 5 more items to complete my goal of knitting 14 items for the Mongolian children. I'm now 64% complete!
Tonight was also the Ferals meeting and before the knitting meeting, people came early to spin. I watched them in awe and admired some of June's spindles. I'm still not sure if I'll ever want to spin BUT I do admire their work.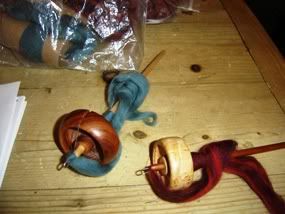 I also spent some time working on my Jellybean Cushion. I'm about 7 inches into the front panel, with 7 more to go. I desperately want this cushion to be finished so I can enjoy its goodness! Destiny is so going to love this cushion and I'll probably tell her to stop getting fur on my pillow!