For Motty
Mot left for Italy yesterday and I told her that I would miss her. She said that I would only miss her because there would be no one around to hear my tales of woe. The ones where she tells me to put my hand on my forehead and say, "Oh, Woe is me".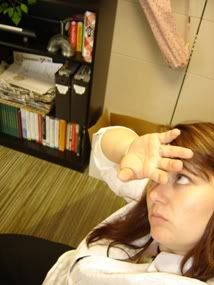 yep, just like this
It does help bring levity to any situation when she makes me do that. And today I need the levity.
I made myself go swimming tonight and chanted
Megan's
mantra, "I am the training". I'm glad I went. I ended up in a lane with two energizer rabbits who didn't stop swimming the entire time I swam my 12 laps. They were so good and were still swimming when I left. I didn't want to overtire myself so I kept the swimming to 12 laps though I probably should and could have done a lot more.
When I arrived home, Destiny was sunning herself on the deck. She does seem happier in the summer months when her friend, the sun is out.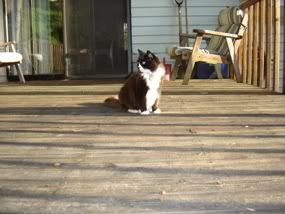 Tonight, knitting and LOST!