Actual Knitting Content
The past few days have been filled with activities sadly lacking in knitting but I do have some progress to report on Ms. Clap!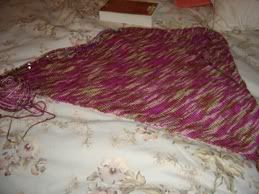 and here is a close up of more dropped stitches...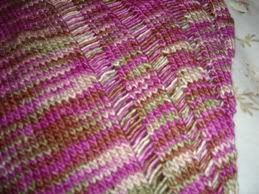 I have to say that while I love this pattern, I am growing tired of knitting this piece. I just want it to be done so I can wear it and show everyone how awesome it is! I'm just not knitting fast enough and for some reason, I think I've inherited
Claw Hand
from Ryan! Purling especially aggravates this condition so I've been taking it easy with the knitting.
I may have more knitting time in the near future though since the weather forecast calls for SNOW! It rarely snows here in Seattle so when it does, the city shuts down. We've been experiencing a cold blast for the past few days which I alternate between secretly loving and hating. Loving because I love the cold, hating because I can't run outside on the ice with such cold air! *WAH!* I've been forced into the gym which gets super BORING after 30 minutes. At least I have the option though so I try to keep that in mind.
Thanks for the comments on my 30s list. I'm very excited about it and know that I will have a successful year tackling these goals!
OK off to weather watch...