Bunnincula
This weekend provided us with some SNOW!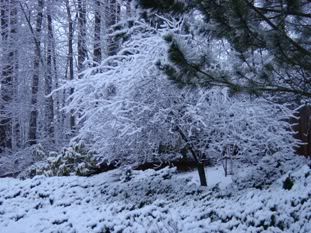 Which also provided me with time to finish up my very first
Bunnincula!
I LOVE this bunny! If anyone is looking for a quick, fun potential baby gift, then I suggest this pattern. Now I just need to stuff this bunny and give it to a pregnant co-worker ASAP.
I gave this little guy a quick wash in the washing machine to give him a slighty more fuzzy look and tighten up some of my stitches. I opted to leave off the pom-pom since this is going to a newborn baby.
Today the roads appear a bit icy so I might be working from home until it warms up! Tonight the Purly Girls is being visited by a reporter! Look for that breaking news story!