Reggie
On New Year's Eve, Julie got to meet her musical idol, Reggie Watts of
Maktub
. It was a night to end all nights.
You see, Julie has this doll that looks like Reggie. She takes this doll, also named Reggie, on all trips, special occasions and makes sure to take fun Reggie Photos. One year she left the Reggie doll behind when she traveled to Chicago and I took took the opportunity to document Reggie's Christmas. Let me tell you, he had fun! She still has the book to prove it!
So on New Year's Eve she announced she was getting a photo with Reggie and her Reggie doll. I carried little Reggie in my purse for awhile and we got some good photos for little Reggie crowd surfing. After the show, the Real Reggie was a bit hard to find but Julie is not one to be deterred. Oh sure there was some persuading on my (and Eric's) part but in the end, she approached Reggie and I snapped their photo.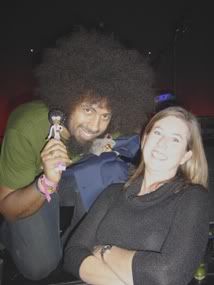 That hair! The Reggie doll's hair can't even compete with the real Reggie's hair!
One Word -- Fabulous!