Manos
Since finishing
Clapotis
, I've been focusing on the
Weekend Hooded Sweater
and the
Lara Sweater
. Lara has gotten to large to carry around with me so she stays at home while I work on the sleeves for the Weekend Hooded Sweater.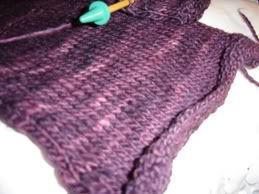 Today I cast on for the second sleeve. Once complete, I'll begin work on the back.
This is the very first sweater I started when I began knitting almost three and half years ago. I've decided that I will finish this sweater immediately. It needs to be worn!
Have a great weekend!