No Snow Day
I had a disappointing start to the day -- the streets were not dusted with white, icicles did not drip from the house eves, and most disappointing the television screens weren't blaring with news of a SNOW day.
Oh they tried to report on the
SNOW
but only areas north of Seattle where hit with any SNOW. Down here, there was rain and that I've seen before.
Last night though I did start a
Kate Gilbert bunny
last night and just wish I could be at home right now finishing him up!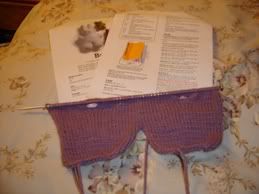 So far the pattern has been excellent. I did have one confusing part but I've decided that has to do with the fact that it was 1 a.m. and I really should have been sleeping instead of knitting. I'll just have to check that on my next bunny because there will be many more bunnies made with this fun pattern!