It was ALMOST a disaster!
I ALMOST had a knitting disaster this week BUT I was saved. This past weekend, I was knitting happily away on
Clapotis
when I noticed that I still had almost TWO sections to complete but I only had a tiny bit of yarn left. I knew something was wrong! So I did something I really should have done in December when I began this project, I CHECKED my gauge. You know where Kate says that the gauge is "19 sts/25 rows = 4" in stockinette stitch", well mine isn't. It's alot bigger, no I don't remember the exact numbers because I was in shock. SHOCK!
I always have a problem with gauge and I knew this pattern used up all three skeins of yarn it called for, so I have no explaination as to why I never checked gauge until it was too late. BUT I called
Angelika's Yarn Store
and I was in luck! They had another skein of my yarn (Lorna's Laces Lion and Lamb in Vera) in MY DYELOT in stock. I received it last night and plan to work my fingers off on Clapotis this weekend.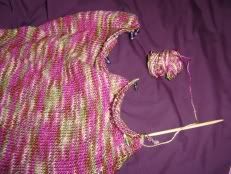 Kate
suggested that since I'll now have extra yarn that I add a dropped stitch section or make a matching hat. I'm still trying to decide what to do and I think both suggestions are great ones so it will be a tough decision. Hmmm I may need to take a stroll through
Kate's designs
Whew! Disaster adverted.
So while waiting for my yarn to arrive, I worked on the drawstring bag from
Last Minute Knitted Gifts.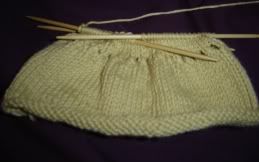 Last night I did a three needle bind-off on the bottom of the bag last night and all I can say is WOW! I love how this looks. I'm going to use the three needle bind-off whereever possible now! I'll be using it everywhere! Now I just need to finish up the i-cord and attach some tassels. OH and figure out what I'm going to do with this little bag.
OK off to knit!
PS I'm adjusting to my desk and I have my swingline stapler!