Departing Sleeve Island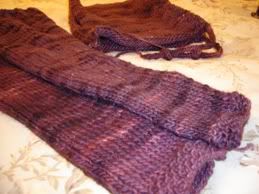 I decided to do things a bit differently around here. I went to sleeve island first for this
sweater.
And it has been worth it! Last night I finished the second sleeve (well up to where the sleeve cap shaping begins and then it went onto a stitch holder) and cast on for the back this morning.
For now I'm trying very hard to stay focused on the
Hooded Weekend Sweater
and on
Lara.
I realized last night at
Purly Girls
that both of these have been hanging around much TOOOOOO long. I realized how long they had been hanging out when
Jessica
said, "You are STILL working on Lara?" Ermmmmm, well while I may have started this in September, I didn't work on it from October to January -- PRIME LARA WEARING SEASON! So now I need to get these done so I can potentially wear them this year. Yep, new focus....must focus....focusing....Jessica! I'm not focusing! Look at all the pretty shiny yarn everywhere!
Check out Jessica in this
article.
What stars!
UPDATED:
Are
you
people
trying to distract me? A few months ago, when
Norma
was my Secret Pal, she sent me two skeins of gorgous alpaca yarn. I have finally realized that these two skeins would be perfect for the
flower basket shawl
from Interweave Knits. And now I need to cast on for this project! Oh the distractions! (they are lovely though!)