Sleeve Watch
Here at Supergirl Knits, we are on Lara sleeve watch. Unfortunately just watching a half knit sleeve does not help it get knit any faster but I'm giving it my all! I'm about halfway though the sleeve which means I'm almost done knitting the sweater.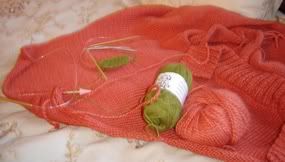 Of course this does mean that then I'll have to dive into the finishing but I think I'm up for it. Just need to knit faster on the sleeve and stop getting distracted by other projects, like socks on two circular needles!
What a fun way to knit socks! I love it! You may have to drag me kicking and screaming back to knitting socks on double pointed needles. Screaming and kicking!
Last night I skipped PurlyGirls and headed over for a spinning class which kicked MY ASS! Kicked it! But I also secretly loved it. I'm planning on riding
STP
this summer and so I need to get my cycling back into gear. No worries, I will be at PurlyGirls next week.