All Lara, All the Time
This week has been a race to finish Lara and I can see the finish line. I feel like I'm at mile 20 of a marathon and I know that the last 6.2 miles will be rough but are very do-able.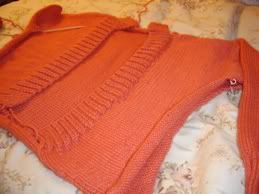 Last night I attended the Seattle Knitting Guild and heard a presentation on Swedish Knitting. The speaker also talked about different styles of knitting which I am now very keen to explore but the best part of last night was the knitting time! I finished up the very long and boring 42 rows of St St over a billion stitches and started binding off toward the sleeve. I go to the top few rows of the sleeve.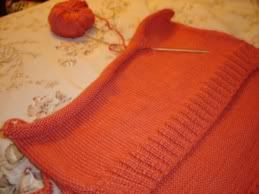 Right now I wish I didn't have to work today and could just knit the sleeve! My goal is to have this blocking by Saturday morning. WOW-WEEE!
Jessica and I are also plotting together about attending the
Maryland Sheep and Wool Festival
. I'm VERY excited at the prospect but need to figure stuff out. Anyone else planning on attending? Has anyone attended and has great tips?
Ahhhh off to plan!