Scrappy
With inspiration from
Wish Jar Journal
, I did a bit of journal collage today and since Lara progress is slow, I needed something to distract from that project.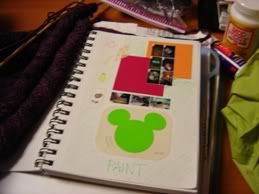 Yesterday at lunch, I visited Home Depot and grabbed handfuls of paintchips. Once I got home last night I found a photo contact sheet and began mixing up the samples. Disney does their paint chips in the shape of a mouse so I knew I had to include at least one of those. Then I did some sketches to fill out the white-ness. I have to say that I like it. It is a start. Not sure where I'm going but the journey is always more fun that the end destination.
Now I need to go and think on the
Photo Friday theme
for this week. It's "Distorted". Hmmm now that is a CHALLENGE!