So Much Cuteness
Because I too can post animal cuteness like
Rachel
, I present Roux of Peanut Butter Parfait fame! His Mum recently sent me these photos which made me want to snuggle him. I think I need a Roux visit!
Here is Roux after attacking the snow in search of those peanut butter parfaits.
and Roux resting up from an especially busy day of barking and sleeping.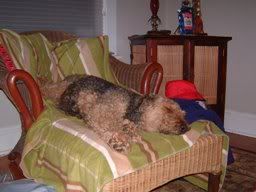 And yes, I've used Roux to distract you from the fact that there is no knitting to show today!
This weekend I'm watching my brother's pup! *Mwhahaha* I'm going to undo ALL the training they've been doing! He will become *Mad, Crazy Pup!* "MWHAHAHAHAHAH*